100 Days in Egypt, Dahab 4/5
I continue here a small series of articles on my excursions. Subscribe here, if you want to be warned when a new article in the serie is published. And here, if you want to read the articles from the beginning.
Dahab, just relax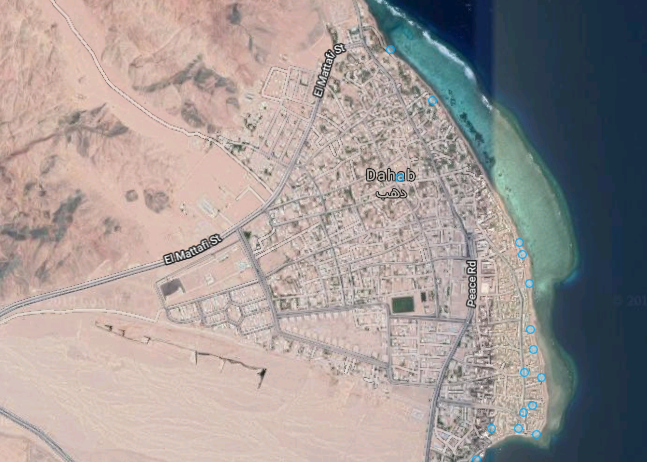 Two weeks after Fayoum, I went with my friends in Dahab. It was from that moment that my work pace began to slow down on the project. Visiting Egypt and working at the same time is not easy. And in parallel, all my initiatives took longer than I expected. Anyway I don't regret going to Dahab at all. It's certainly like all the Egyptians I've met say, the best spot to relax in Egypt. Okay, let's be measured, one of the best spots.
But first I have to tell you how we went to Dahab with my friends from Ismailia and Alexandria. We had to take the night bus from Ismailia. Khaled picks us up with his car to get to the bus station. But he's late, it's Thursday, there's traffic as it is the day before the weekend. We have to pick up a friend Khaled N°2, to park the car not very far from the station and to take a taxi to reach it. It's 7:30. What time is the bus? 8:00 or 8:30? Khaled does not know… Yes, yes, he doesn't know. We pass our friend, he's waiting to park his car next to Khaled's then take a taxi to fetch his bag and join us at the station. Yes, yes, he did not take his bag directly with him. Let's park. We're getting out of the car. Khaled takes his backpack, his wallet, and then pulls the tickets out of his wallet. The bus is at 8pm, it is 19:45… Our friend went to get his backpack. We need to find a cab.

I relativize, at worst we do not have the bus… It's not the end of the world… The taxi is not very close to the station!!! I ask Khaled what Mohamed can tell the driver… He's talking to him about Germany. Yes, yes, we're going to miss our bus and they're talking about Germany. 20:05, we arrive at the bus station entrance. The bus is coming out… Call headlights, we stop, we run out of the car, we climb in. We're in. The bus is restarting. We're in it, but where's our friend? Mohamed is going to talk to the driver. I turn around and see Khaled n ° 2 getting on the bus. Euphoria. Nothing is impossible in Egypt.
It lasts 10 minutes. We settle on the back of the bus. He began his journey to Dahab, when suddenly the expression of Khaled changed at once. Where's my wallet? It lasts 15-20 min, we search all over the bus. But it stayed on the backseat of the cab. With inside, money, reservation and above all identity card. To go to Dahab, you have to go through more than ten check points and show your identity papers. Game over. Then everyone gets nervous, I don't understand what's going on as i don't understand arabic. Khaled gets off the bus. The mood is gloomy.
A pair of hours later, Khaled calls. The driver of the cab brought his wallet back to his parents. He picked it up, he's in a cab chasing the bus. It's almost comical, but he'll never catch up. Because he gets checked (while cars pass faster check points normally) then he takes a bus… Who has a flat tyre. On our side, we are passing the controls one after the other, impossible to sleep. In the early morning, we arrive in Dahab, exhausted, we check in our rooms, then we go to breakfast. Suddenly, Khaled arrives, like the unexpected survivor at the end of a movie. We all burst out laughing. The holidays can begin.

Dahab It is therefore a seaside village different from the coasts dotted with private resorts and beach that I have often seen in Egypt. Here, a main promenade, clean and well maintained with, on the land side, small hotels with terraces, restaurants and shops, and sea sides, cafes and restaurants on stilts, beaches and wooden lounges built on the beach. Everything is coloured with taste, wooden recovery. It's relaxing. There's a positive energy out of this place. Between two activities, you sit in a café with a view of the sea, you listen to very good music… It feels good. At the hotel The breakfast is traditionally perfect, falafel, foul, aïch, omelette, Salat. The room, at just over 350 pounds (17.5 euros) per night is perfect for me.
The Hotel
The city
Among other activities, we went to visit the Blue Hole, where we make snorkelling in procession of ten. All the girls are practically in diving suit. It's not easy to wear only a simple swiming suit when all other women are this well covered. But once the first few minutes of embarrassment passed, it is great. I enjoy it. It's mass tourism, I wouldn't do it twice but it's fun to experienced. So we are lining in the water with our masks and snorkels to see the small fish and finally the Blue hole just a few meters from the shore. It would go down to 100m deep. Many freedivers cling to their lifeline. I discover new subspecies of fish, that is to say species that I have seen in the Red Sea but with new colors. We have to be a hundred people in total swimming in the water. Our line is going out of water, I must keep pace… 🙂
We take the boat to get to a small island a few kilometers away. The Blue Lagoon is hidden here. Turquoise Blue, small huts here and there and kitesurfing. Once again, it's beautiful. The water is not hot hot but I have fun with my GoPro. We meet an Australian, who walks in Israel. It's easy to reach Dahab from Israel for a few days of vacation. I discover on this occasion that the Egyptians, at least the ones I met, do not like the Israelis (some concerns about the war of 1967 and the territorial tensions in Sinai, and the Palestinians issue, you know…). So the Australian is suspected of being an Israeli undercover… Well.
Another activity, the Quad, a first for me, here too we are in a line. No crossing allowed. It suits me. I find the beast not stable at all. But I'm doing very well:) We drive in the road, the sand, especially we climb in the mountains enjoying a magnificent view of Dahab. We stop inthe mountain to drink a tea, the owners kindly accept to play at djembe for us. Then we pick up the quads, the return is done all downhill, in the dark, with the lights of the city.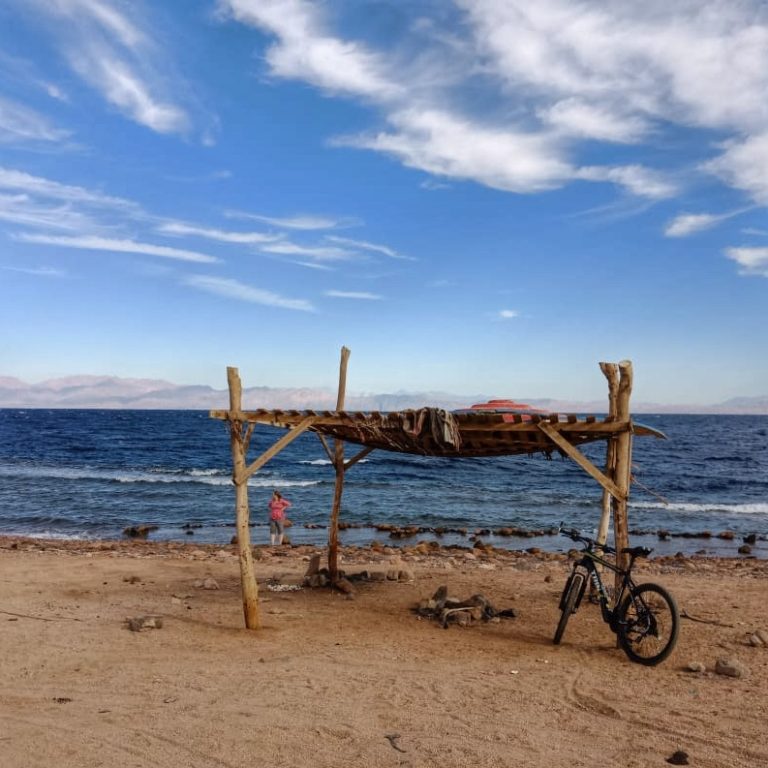 We also do bike, snorkeling from the beach, we contemplate the moon which is far too bright to be a normal moon… And the stars and the moving clouds. We take part in a unexpected couchsurfing meeting, we chat with a dozen travelers. Have some Thai food:) And it's already time to go home.
I missed the tour of the colorful canyon and the mountain of St. Catherine. Probably scheduled for March.
End of this fourth article about my visits. The next episode will be released next Sunday! Subscribe here, if you want to be warned when a new article in the serie is published.